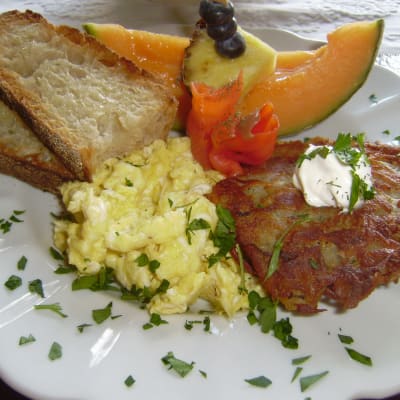 Breakfast! Oh, what a beautiful morning...
Morning at the inn begins with a glorious breakfast in the dining room served between 8-9am.
Should you have an early hike planned or a flight to catch we are happy to set up a continental breakfast in the Butler's Pantry to take with you. We will try to accommodate your special dietary needs as best we can.
Plenty of assertively brewed European-roast coffee often sparks lively conversation and accompanies Paul's Famous Banana Bread and house specialties such as Croissant French Toast with Very Berry Sauce or Southwestern Breakfast Burrito.
Innkeeper Mark has formal culinary training. He turns out a pretty respectable scone and bakes artisan bread several times each week. He and Paul like to prepare fresh, classic dishes with a minimum of fuss.
Whatever the day's menu, you will feel sufficiently fueled to tackle a canyon hike, sight seeing or shopping spree. When you return to the inn from your day, fix yourself a cup of tea and have a couple homemade cookies.